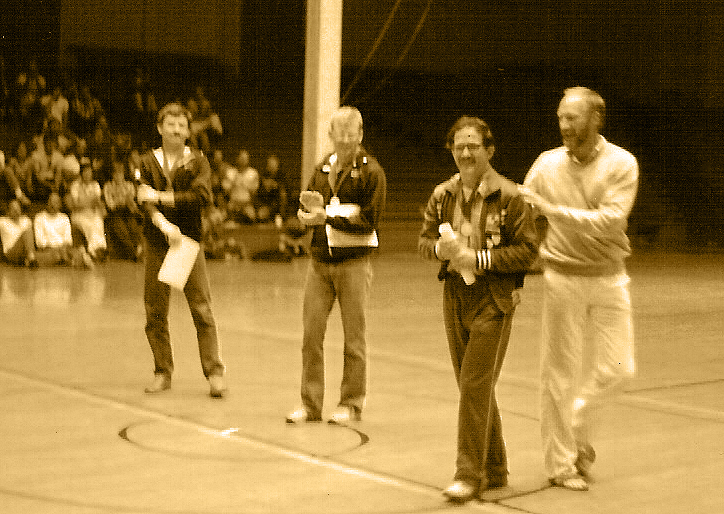 Don Jung receives his gold at Gay Games I from Tom Waddell as Scott Veliquette (bronze) and John Thayer (silver) cheer.

---
WWB created a Hall of Merit rather than a Hall of Fame because we are not recognizing people who sought fame, but rather honoring people who have displayed sacrifice and selflessness to encourage other to achieve as much as they could and to create safe and supportive wrestling opportunities for athletes regardless of skill level, gender, orientation or age. The wrestling community is composed of competitors, officials, coaches and supporters and the Hall seeks to honor their legacies.

The 2014 Class Iductees will be notified in January 2014, and formally inducted during Cleveland 2014 Gay Games 9 on 11th. August 2014 at the Wrestling Awards Banquet.

Download the 2014 nomination form HERE

The 2013 Outstanding Contributions Class were inducted during the Sin City Shootout in Las Vegas in January 2013. The new inductees were: Manfred Molt, Carlis Sharpe, Peter Verey, Drew Till, and Calvin Malone .

The 2011-12 Leadership & Legacy Class were inducted during the Sin City Shootout in Las Vegas in January 2012. The new inductees were: Michael Ognibene, Mike Rio, Rochelle Robinson and Albert "Ace" Rocek.

The Foundation Class, focused on the first Gay Games, was created in 2007 and announced at Golden Gate's renamed Don Jung Wrestling Tournament. Gene Dermody received an Atlas Award for lifetime contributions starting with Gay Games I; other honorees received framed certificates for their involvement with the organzation of Gay Games I wrestling.

A larger Inaugural Class, representing a quarter of century of catching up to do, was selected to recognize pioneers and founders from all of the WWB clubs, was named at the inaugural WWB Cup Tournament in Chicago, May of 2008. Each honoree received a trophy and a ceritificate. This ceremony was repeated in 2009 for the six Excellence and Endurance Class inductees. Future classes will be named at WWB tournaments.