Stories
CMWA Wrestling Tournament
Piner HS, Santa Rosa, CA
April 2, 2006
10:20 pm - Wrestling Tournament at Piner High, my experience
A journal entry by Ross Capdeville
<play video>
I went to the CMWA Piner High School wrestling tournament last weekend in Santa Rosa. On thursday, I talked Trey
into going and Friday he told me he would wrestle. I was excited. It would be the first time competing in a wrestling,
tournament, though I'd been to some before in high school. It was supposed to be a low key tournament. We drove up
Friday night after practice. I was feeling confident after getting an under-arm spin and a lateral drop on Sam, who is 25
pounds heaver than me and has been wrestling for 5 years. After only 7 months, I can pretty much hold my own against
anyone in the club, certainly anyone in my weight class. Now I am not saying I can beat them, but I can roll with most
everyone, have a good time, score some points, and basically be pretty effective.

Calvin, Gene, Trey, Johnny, and I carpooled the 2 hour drive north of San Francisco into Sonoma County and spent the
night in Petaluma. This made a short trip into Santa Rosa the next morning.
I thought I was ready for a tournament, to get out there and wrestle some other people. Coaches thought I was ready too.
I was just a little nervous, but more excited and anxious. My expectations were simple, I wanted to last longer than my
last "real" match - which was with Johnny at practice, I lasted less than 30 seconds until I was pinned. I had no expectations
of winning a match, and was planning to play pretty conservative.

Trey on the other hand, said he didn't get to win much in high school and wanted to win bad. He is very competitive. He hadn't
practiced the last few weeks becuase of his shoulder injury. But he thought he was ready, and I didn't push him into competing.
I just wanted him to be there with me to watch my matches (and take some pictures).

Got to the school at 7 am and had immediate flashbacks. All these kids (high school and younger) were there. Some kids around
4 years old and such. We watched some little kid wrestling and it was pretty fun. When the high school guys got out there it was
easy to see that they had exactly 2 moves. One takedown (single leg) and one parterre (half nelson). I saw one kid do a front headlock
turn effectively, but aside from that, those were the two moves.

At about 12:30, they announced the Open Division brackets. I was in a red singlet for my first match, and against none other than
my freakin' coach! We're both about 160 natural weight (wrestling 149.5 in the international tournament this summer). We're actually
a pretty good match for each other - except for the fact that first, Johnny is way more experienced than me, and second, he's taught
me every move I know and he knows exactly what I'm gonna do at all times, because he's taught me what to do.

I decided I'd take it defensive, and my goal was to last more than 30 seconds. I mainly wanted to last long enough to get a few pictures
out of it at least, lol. I had no grand notions of winning. I had no thoughts of even attempting a 3 point throw. It'd be very risky and put
me in a bad situation ultimately. I was going to go for the 1's and try to turn him - which I've done successfully a few times.

We started out and he tried to hit an underarm spin, but didn't get high enough. I pulled out:


| | |
| --- | --- |
| | I got around for one, couldn't turn him (they gave me about 4 seconds). We pummeled around some more and sometimes I'd see for a quarter second a possibility of a takedown. |
I was able to get a duckunder, and a leg, once but couldn't convert it. Probably because I don't have the fire, the explosion.
I'l learn eventually. Got to do it more in practice. Johnny got me in a power-half nelson, and kept working on it. I knew the ref
would only give him a few seconds to convert it, I got saved by the whistle quite a few times. One time, something had to give
though and I went over on a bridge, I quickly turned to my belly so he didn't get the pin, for a moment I was in a pretty dangerous
situation. I got out of another pinning combination as well. In the first period I'm pretty sure Johnny got ahead by 6 points
(probably something like 8-2). I was happy with my performance in the first round, and was totally stoked by how I felt coming
into the corner (with no coach, lol). My heart was pumping, I was sweating, and the adrenelene was going strong. After 10 years
of karate, and even boxing, I didn't feel like that. Wrestling is more demanding than either. I loved it.

In the second period, Johnny again got me in a power-half nelson, I couldn't shrug or bump him off. I was careful not to give him
any energy he could use against me. Here' s a shot of how most of the match went (with me on the mat wrapped up in some
tourtorous pinning hold):




About the middle of the second period, he got me off guard with an underarm spin while pummeling. I can usually read
what's going on but this time he got around too quick, scooped-up my other arm and I thought I was definately pinned.
I didn't give up, I bridged and tried to turn out of it, but it wasn't going to happen. Our referee, Les, was giving me the
benefit of the doubt, and the clock ran out. Johnny won the match by points, but not by pin.
---
Coastal-Mountain Wrestling Association - Sebastopol, CA
April 19 2003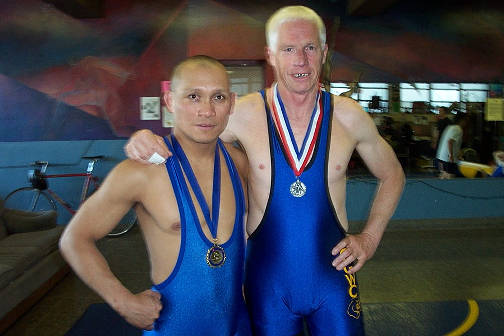 Golden Gate's Si Durney, David Dodson, and Johnny Almony travelled north to Sebastopol, in Sonoma County, to compete in a pair of tournaments hosted the Coastal-Mountain Wrestling Association.
Although considered a 'local tournament', it did feature strong competitors. Some of whom, placed in state and regional tournaments. Because of a lighter than usual turnout in the Open and Veterans Divisions, the two divisions were merged and some 'creative bracketing' was done to assure everyone had a chance to wrestle.
Analy Tournament
Si Durney was pitted against Anthony Powers of Sebastopol. A qualifier in the State Championships.
It tough going and Si lost by tech fall. Not one to give up too easily, Si had arrange two more exhibition matches.
Match 2 was against Chris Christina had Si stealing takedowns from Chris. He managed a 6-4 lead before Chris reveresed fromt the bottom position, seizing a head/arm position and eventually pinning Si.
Match 3 was against Ron Engel. Probably the closest match in the Open Division. It was a rivetting see-saw match:
tied 2-2, Si ahead 4-2, Ron tied 4-4. In the second period, Ron made it 6-4 with only 50 seconds left. Si denied Ron's takedown and regained control to make it 6-5. In the closing seconds, Si regained control and put everything he had to score a 2-point tilt on Ron to win it, 7-5. Both had facial bruising and cuts.

David Dodson had to wrestle teammate and coach, Johnny Almony, in both Freestyle and Greco. David managed to keep Johnny on the run and scored points though effective counter attacks. David is very much aware of Johnny's moves and tactics. Johnny capitalized on an opportunity to pin David, seconds before the end of the first period. 6-4
After a quick 15 minute break, David and Johnny mixed it up in a Greco match. David was ahead by 2 points when Johnny was able to get a body lock on him and launched into an arch. David ended up crashing his face into the mat. Despite the bruised nose and mild concussion, he was able to leave the mat under his own power. 9-4
Johnny wrestled Ron Engel, a veteran from St. Helena. Johnny was challenged to adjust his attack because of Ron's ability to block with his head and hands. Johnny had better endurance and used the clock and a steady series of take downs against Ron. 11-5
Johnny's final match was a Greco match against the formidable Matt Crippes. At 18 years of age, Matt is one of the top three wrestlers in the state and in the top 10 nationally in his age/weight class. Although Johnny felt pretty confident pommeling, tying and working positions from standing with Matt, all was lost once he got Johnny to the mat. Because of Matt's strength, it was difficult for Johnny to escape being picked up and thrown around like a sea lion carcass by killer whale. Tech fall by Matt 10-0
All in all, a good day:

Si Durney
Silver Medal - Open Division Freestyle 163>174lbs

Dave Dodson
Bronze Medal - Open Division Freestyle 145>162lbs
Bronze Medal - Open Division Greco

Johnny Almony
Gold Medal - Open Division Freestyle 145>162lbs
Silver Medal - Open Division Greco