Southern California Wrestling (SCWC)'s Sin City Classic XII

Register NOW for FreeStyle Wrestling/Grappling Tournaments/Clinics
Martin Luther King (MLK) 4 Day Holiday WeekEnd Event 17-20 January 2019
The Sin City Classic XII Weekend 2019 is a Weekend of wrestling and grappling events
plus dozens of other sports, parties, and activities that are part of the Sin City Classic XII.
Hosted by SoCal Wrestling Club (SCWC) and Wrestlers WithOut Borders (WWB),
Registration is now open, so join nearly 10,000 participants at the largest annual LGBTQ
sports event in the world!
SCHEDULE: A full weekend of events from Thursday January 17th through
Sunday January 20th ALL at Flamingo Sunset Ballroom, Vista Section, Flamingo Hotel,
3555 Las Vegas Blvd S, Las Vegas, NV 89109.


Thursday January 17th:
8:00PM Welcome party/bar/reception for early arrivals at Charlie`s Las Vegas

Friday January 18th:
2:00PM-4:00PM Beginners Clinic (WWB Coaches)
5:00PM-7:00PM FreeStyle Clinic (Tyler Marghetis 4 Time Canadian Amateur Champion)
5:00PM-9:00PM Accreditation/Weigh-Ins
8:30PM-10:30PM Meet-Greet at Virgil`s Real BBQ Las Vegas Linq Promenade
9:30PM-11:30PM SinCity GAYVN Party Hardrock Hotel

Saturday January 19th:
10:00AM-11:00AM Volunteer Set-Up
11:00AM-12:00PM Pairings, Brackets, Rules, Warm-Ups, Instructions, etc...
12:00PM-4:00PM FreeStyle Wrestling Tournament
6:00PM-9:00PM Wrestler/Grappler Party, Awards, LOC TBA
9:00PM-11:00PM Sin City Party at Club Piranha

Sunday January 20th:
11:00-11:30AM Volunteer Set-Up
11:30AM-1:30PM Grappling Clinic (Matthew Kaiser World Champion Combat Wrestler)
1:30AM-3:00PM Grappling Bouts
3:00PM-4:00PM Volunteer Tear-Down
4:00PM-7:00PM Wrestler/Grappler Party/Awards at the Garage Bar
9:00PM-11:00PM Sin City Closing Party at the Brooklyn Bowl Linq Promenade

Plus...all Sin City XII Parties/Discounts are included in your REGISTRATION fee!

$70 - Competitor: T-Shirt Discount-Bracelet 2_Clinics Tournaments

$60 - Participant: T-Shirt Discount Bracelet 2_Clinics No_Tournaments

$50 - Friend: T-Shirt Discount-Bracelet No_Clinics No_Tournaments

$25 - Clinic: &nbsp No_T-Shirt Discount-Braclet 1_Clinic No_Tournaments

Event Registration ($70 $60 $50 $40 $25)
Please note: for those COMPETING in the wrestling or grappling tournament,
a USAW/UWW competitor card is REQUIRED:
USAW/UWW Competitor Card 2018-2019 (required) ~$55
Full event information available on the Official Sin City Classic XII WebPage...
now the largest annual LGBT Sports Festival in the World!
Official Sin City Classic XII WebPage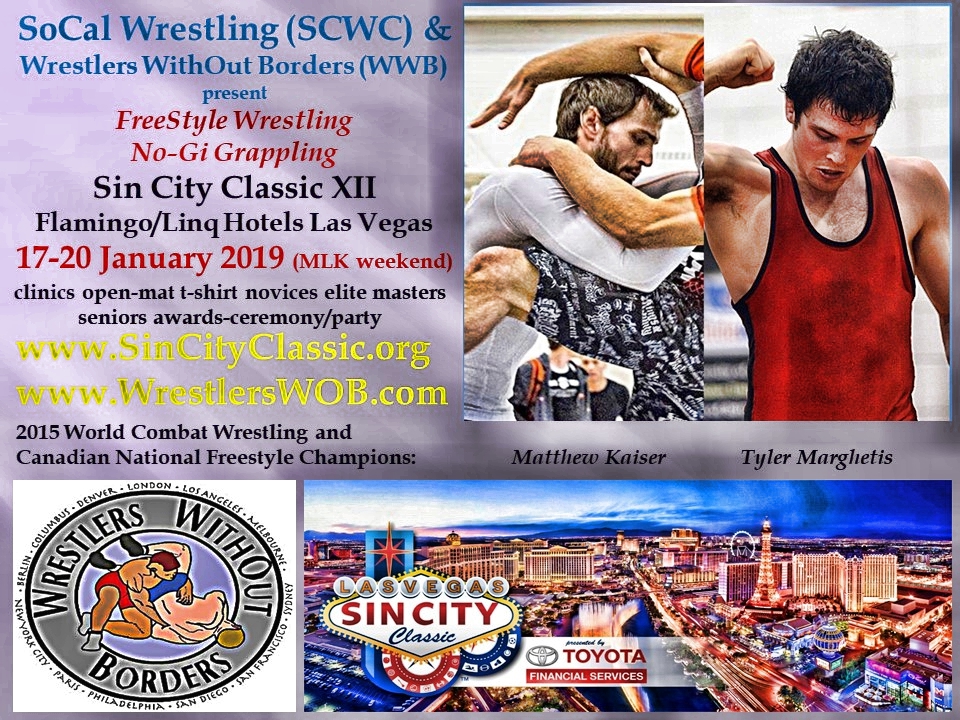 Follow Event on FaceBook &nbsp &nbsp &nbsp Contact Us WWB WWB-CLUBS